Shelob yarn by Woolwench
One of my Facebook friends is Woolwench (Suzy) who is based in Holland. She is also the owner of "The One Wheel" limited edition Aura that we built last year for her Kickstarter campaign. She recently posted on her Facebook page pictures of a new yarn she had produced which she has called "Shelob". Here is her story about the yarn
I dreamt about this yarn, and it was one of those dreams where everything just happens magically, which of course I discovered as I was spinning it and realised it would have been much easier if I had an extra hand or more fingers. My goal was a very lumpy yarn wrapped in silk just like a spider cocoon, in my dream I had seen the fine cobwebby silk fibers wrapping around the yarn and encasing it in a thin layer. It was a bit like how a spider wraps its prey in silk, somewhat gruesome but hey, it was a dream and they can be weird right! It was tricky to spin, I first corespun a single, then coilspun it to make a coiled yarn, and then coil spun that again, in my left hand, while drafting a silk hankie with my right to wrap around the outside of it, spreading it back along the yarn to open out the silk fibers. I used a commercial spun eyelash thread as the core to add extra texture too. I also made a second yarn using a black sparkly base yarn with a white silk layer over it, hoping for an even more spidery look – I am going to add this to my LOTR yarn collection and have named it Shelob, for the giant spider that Frodo met in the Two Towers book.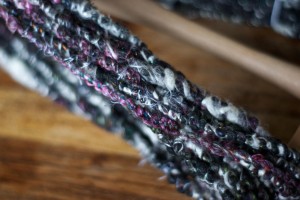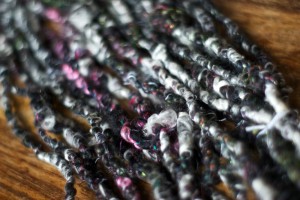 Here are some pictures of a Shelob style yarn that was the first iteration of the design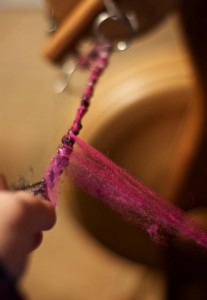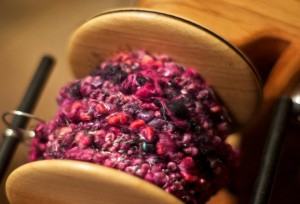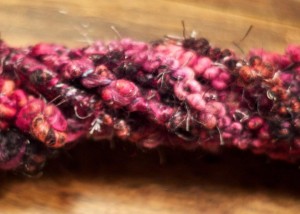 I find it amazing to see what people around the world are creating with Majacraft tools and what we in a small way are part of so congratulations Suzy and thank you for sharing it with us.
Suzy is "WoolWench Handspun Yarn" on Facebook if you would like to connect with her and see what she has been up to recently or visit her site at www.woolwench.com
Until next time
Andy
---