Camp 2021 is Planned!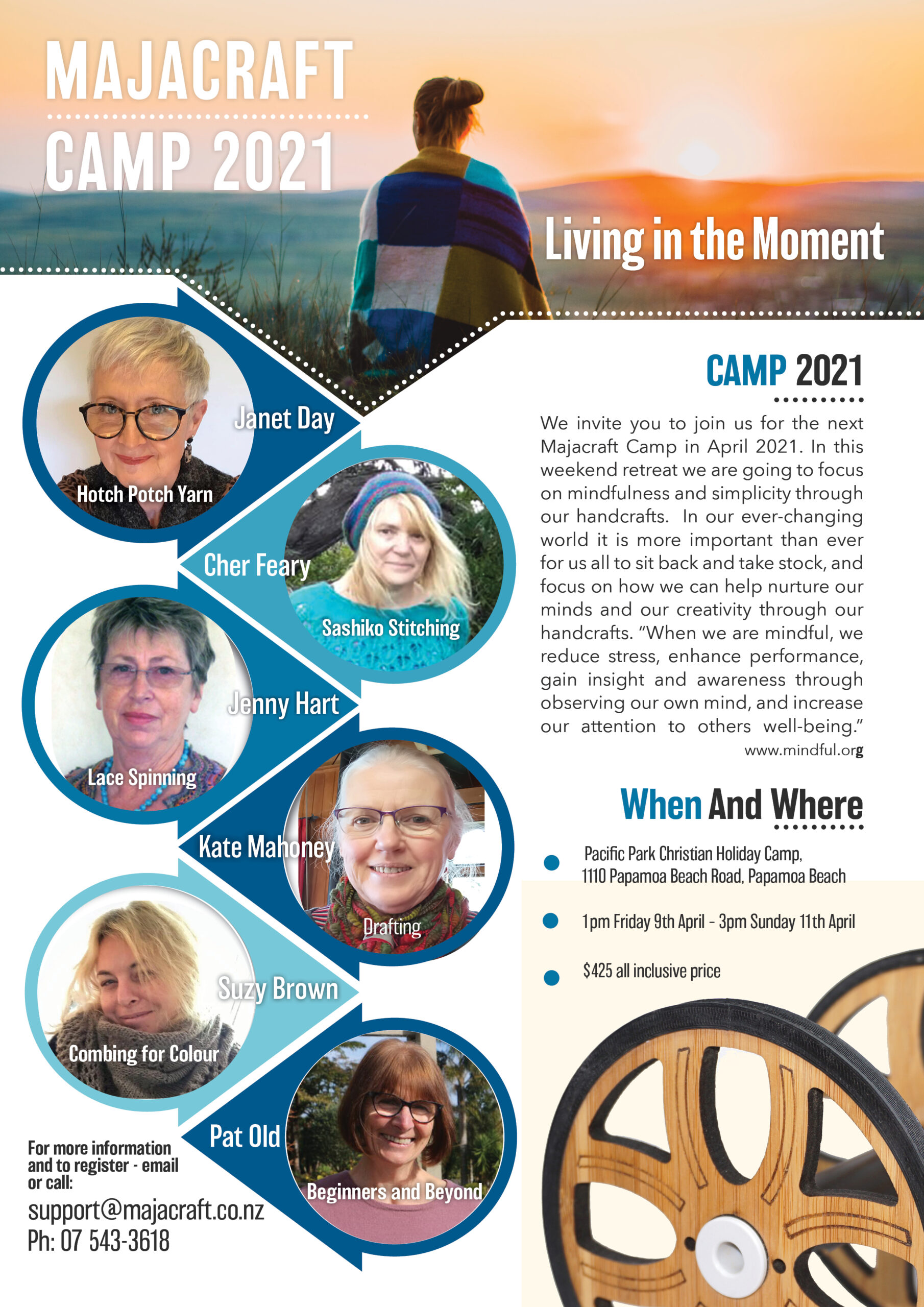 We are pleased to announce that the upcoming retreat in 2021 is going to be  "Living in the Moment with Majacraft."
Throughout this retreat we are going to focus on mindfulness and simplicity through our handcrafts.  In our ever-changing world, I think it's more important than ever for us to take stock and focus on how we can help nurture our minds and creativity through handcrafts – "When we're mindful, we reduce stress, enhance performance, gain insight and awareness through observing our own mind, and increase our attention to others' well-being". – www.mindful.org
Where:                                                                                Pacific Park Christian Holiday Camp, 1110 Papamoa Beach Road, Papamoa Beach
When:                                                                                  1pm Friday 9th April – 3pm Sunday 11th April
Cost:                                                                                        NZ$425 (all inclusive – see below for more info)
2021 Class Content:
Combing Gradients – with Suzy Brown  – make a gradient fibre preparation and then add some extra steps to make it unique and gorgeous! Plus learn some exciting tricks with combs along the way.
Hotch Potch Yarn with Janet Day – Australia  – our very first virtual class all the way from over the ditch!
Sashiko Stitching – with Cher Feary  – make yourself a gorgeous azuma bag featuring sashiko, an ancient traditional Japanese mending stitching technique.
Lace Spinning with Jenny Hart  – have you ever wanted to spin lace weight yarn? Have you thought of the beautiful things you can make with it?  Learn the technique and more.
Drafting with Kate Mahoney – exploration of drafting techniques for different fibre types – some prior knowledge of short forward and short backward to the retreat will ensure you get the best out of this fascinating class.
Beginners & Beyond with Pat Old  – for beginners or those lacking confidence in their spinning. Learn about the mechanics of your wheel, about fleece and fibre types, yarn design and how to finesse your yarn.  This is a separate stream and will run alongside our usual main stream classes.
Its also a good time to talk about how we will be running this retreat differently due to Covid19 .  There is a possibility of restrictions and precautions, and also a possible lockdown.  Nobody knows what's on the horizon.  So in light of this fact, we have decided not to do a payment plan – this year we would like to ask for a deposit, with the balance of the payment in March.  However should Covid19 "throw the cat amongst the pigeons" and cancel our event, then we will definitely be offering full refunds.  We do ask however, that your deposit is still non-refundable for anything else other than Covid19 related.
The all inclusive cost for the 2021 Majacraft Magic Retreat is $425 – this includes: all accommodation (including bedding/towels), all meals (by our favourite chef Kendell & team), and all class materials/fibres etc.  Just turn up with your suitcase and spinning wheel and enjoy!
Please contact us directly at support@majacraft.co.nz or call + 64 (7) 543-3618  for more payment details and to reserve your place!
If you are interested in doing the Beginners stream or know of anyone else who would be interested, please let us know.  We will need a minimum of 6 people to run this very special class.
We were so lucky to have been able to run Camp 2020 this year before Covid reached our shores, it was enjoyed by all and we all have very warm remembrances of that special time! We think Camp 2021 will also be a wonderful time for us to gather and share, and we hope you can join us!
---