Aura Club Extreme Yarn Challenge
Things have been pretty exciting over the last month in the Aura Club, as we have been running an 'Extreme Yarn' challenge! The Aura is a wheel that is MADE for extremes, it handles the biggest, bulkiest, most textured of yarns, taking it all in it's stride with rarely any need to hand wind onto the bobbin or even worry about it all fitting. We knew this already, but this challenge has also shown us the huge range of the Aura wheels and the people who own them! We saw extreme fine (Anne Lies) to extreme texture and colour (Joelle McCarthy), we have seen extreme plants, such as the nettle spun by Judy Kavanagh, the flax by Samantha Gehrmann, or the fresh grass spun by Isla Fabu.
We saw some extreme 'firsts' with such as Isabelle Rovero's very first yarn, and Sandi Hicks taking raw fleece to spun yarn for the first time. And we also saw some extreme colours and textures. I was blown away by Anne Lies super fine lace weight, I can only imagine the time that went into spinning that, and the control of the fiber, and then she came with the other extreme of the super textured bulky with the sheep add ins! Amazing 🙂
I will let the images below speak for themselves and I hope you enjoy the gallery! Clicking the pic will take you to the info 🙂
Before we go however, I just want to thank everyone who participated in this challenge, it has been eye poppingly exciting to see the level of innovation and experimentation people are coming up with, and I am very happy to say that every single yarn you see below was spun on an Aura! We started this club because we feel the Aura is a unique wheel that really allows Aura spinners the range needed to spin anything they can imagine, and this challenge has proven that Aura spinners have some amazing imaginations. I wish I could offer everyone a prize in the draw! I am grateful for all who participated sharing their work and inspiration with us. But now, I will draw the winner…!
And the prize of the awesome new Majacraft Niddy Noddy goes to…..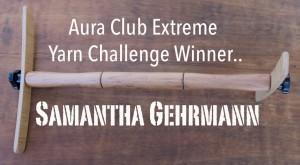 Congratulations Samantha! We will contact you for postal info very soon!
Now lets enjoy the amazing entries!
---