Introducing the Fusion Engine
We have built a drum carder. It is called the Fusion Engine and to be honest, I think it is pretty amazing!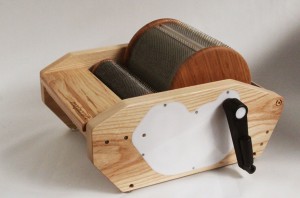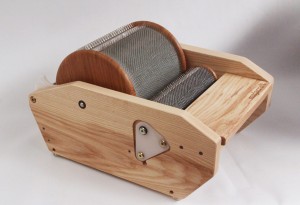 It is packed full of features and innovations that make this drum carder incredibly versatile and easy to use.
Many of the design choices are focussed around creating a machine that does not require cleaning. The drums have special edges that minimise the possibility of fibre wrapping around the axles while packing fibre on to the drum right out to the edge. The drums are interchangeable and we will be building drums with different cloth so you can use finer or coarser cloth depending on what you want to do.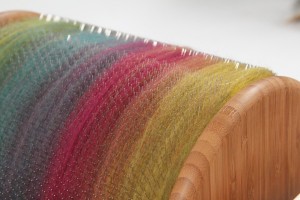 It has an integrated gearbox that uses actual gears and these are hidden in the side of the carder. The ratio runs at 8:1 so there is considerably more blending of fibre that goes on compared to machines that run at 3:1 – 4:1. The gears are always positive and will never slip and being integrated into the side of the carder means there is never any clogging of fibre around the drive mechanism.
It has a movable feed tray that you can slide back and forth depending on whether you are working with fine fibre or something a little more raw.
This is just a basic introduction to the Fusion Engine. If you want to discover more, read about it on the Majacraft web site here.
We have the freely downloadable manual for the Fusion Engine which also has plenty of fibre preparation tips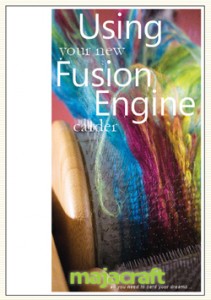 Suzy Brown of Woolwench has written a review of a pre-production machine on the Fibery Goodness web site and you can find it here.
If you are interested in a Fusion Engine then I suggest you contact your dealer promptly. Orders for the first run of machines are filling fast!
Until next time
Andrew
---