A New Look to Majacraft Bobbins!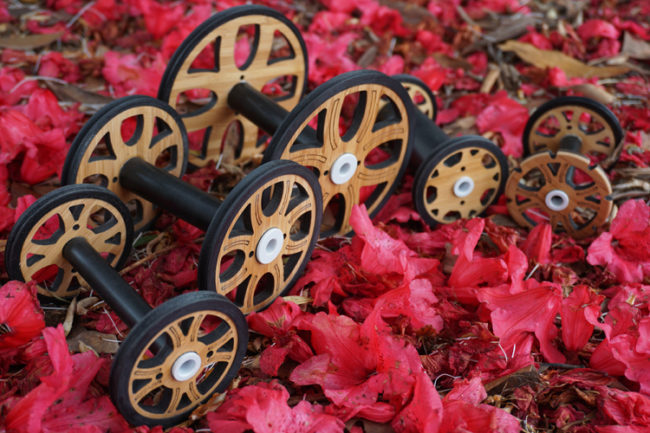 It is Spring here in New Zealand, a time of lambs, daffodils, and also fresh beginnings. This seems to be the perfect time for us to bring you our brand new range of Majacraft bobbins! We have spent the winter completely overhauling all our bobbins, and are now ready to start sending them out with our new wheels and as individual orders to supplement your existing bobbin collection.

We have designed these bobbins with gorgeous 'cut out' ends that let you see your yarn as you spin, and plastic edges that keep things quiet as well as pretty. All our current wooden bobbins are now made with these gorgeous new ends. Below you can see (left to right) the new baby bobbin, the standard bobbin, jumbo bobbin, lace bobbin, and the stylus bobbin. These are all available to order individually, and the jumbo wood bobbin will now also ship with all new Aura wheels.
What we love about this new style is that the bobbins are so much lighter, meaning less inertia when spinning. We are also really happy with the high level of quality and detail we have been able to achieve with these, and we think you will love them too!
This is not the end however! We have developed two more awesome options as well! 
To replace our standard plastic bobbins, which are shipped out with all our wheels (except the Aura which comes with jumbo bobbins) we have these gorgeous new black plastic stylish delights! Also super light, and it is fun to see the yarn building up on the bobbin as you spin, and of course when your bobbin is full!  These bobbins are super tough, high quality moulded plastic, and again, we are excited about the excellent finish we have achieved with these.
We hope you are as excited about this new look range of bobbins as we are! They are now available to order from your nearest dealer! If your dealer does not have them listed yet on their website you can still email them and ask to put your order in, we are shipping these out as quickly as possible. Do also keep an eye on our Facebook page for more photos and information about our new bobbins, and we would love to see what you fill yours with!
---