Majacraft Camp 2020!
Here we are with Majacraft camp news! We are all set for a new venue next year (Papamoa) with great space, excellent catering, and the beach too! Our tutors are ready for action and are bringing some wonderful and exciting classes for you to enjoy. Alongside our usual classes we will also be running a 'beginners stream' which will be taught by the amazing Pat Old (what a great first teacher for any new spinner!) to get them off to a wonderful start. We are happy to be able to provide new spinners with a wheel for the weekend, and ALL participants in all our classes this time will also get a 'kit' of the fibres they will need for the classes.
The theme for this camp is 'It's Only Natural!" as we celebrate all the beauty of natural fibres. With Janet Day you will be spinning and creating one of her special wearable projects, Chantelle Hills will get you spindle spinning your fluff like a pro, even 'ply on the fly' (plying your single as you spin it!) to give you a super portable do-anywhere spinning option! Suzy (me) will be doing a brand new class called 'Heavenly Hackles' with some really fun and exciting ways to design your yarns and manage your (natural) colours in many different ways.  This is just the tiniest taste of what we will be doing 🙂 And of course there will be the traditional 'happy hour' at a venue nearby and a beach walk and free spin and chat time too 🙂
Please do join us! Get your deposit in ASAP to secure your place, Camp 2020 is really filling fast! Contact us at support@majacraft.co.nz for your registration form and my further info you need 🙂 
The full amount for camp this year is $420. This includes all your accommodation/linen hire, meals and also class material for the weekend. Non-refundable deposit of $60 due now.  *For special dietary requirements there is a one-off additional payment of $30 for the weekend to cover this.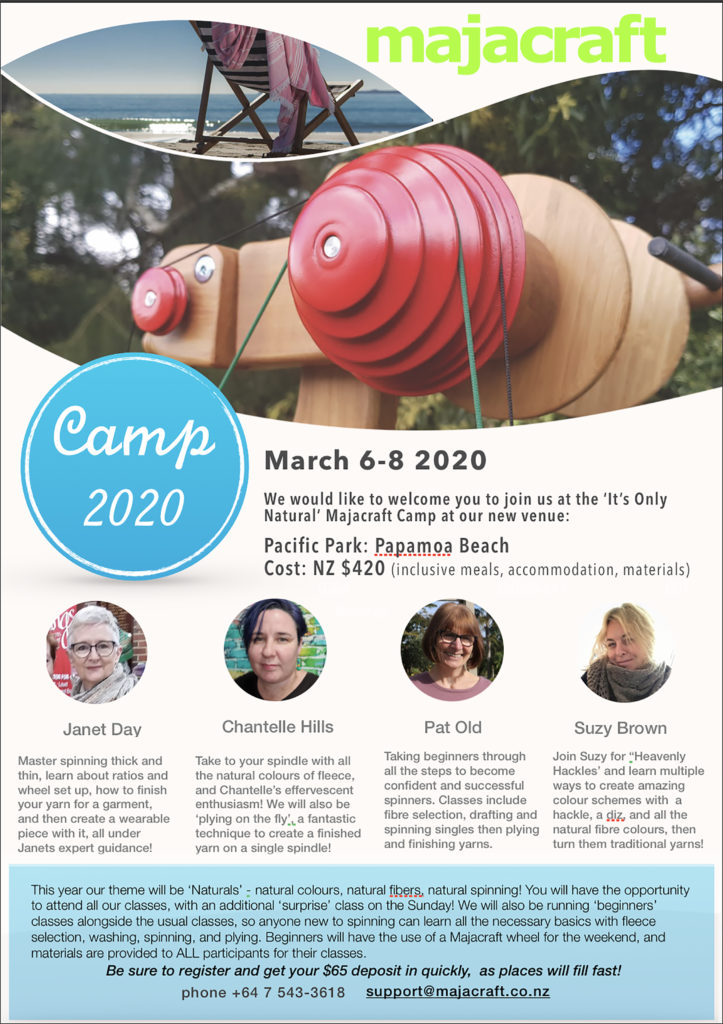 ---